Having any of MY time is a luxury for you and I won't allow it to be watered down in the name of being 'social' with lurkers worldwide. My Twitter will be used for auto-updates from platforms I use and I will be exclusively focusing solely on updating behind websites that bring me my green prettie$.
Contacting me from here on out will only be available to new prospects by phone or text via Sext Panther & Niteflirt or direct messenger via FollowMzDevon.com.  Everyone else knows where to contact me and what is expected with those private communications.
Now that that's been address, let's get down to the REAL business at hand for this NEW year boys…
-> Embedding ME securely and deep inside your mind.

Bookmark these links immediately :
FollowMzDevon.com
|
PayGMD.com
|
FemdomHumiliatrix.com (Niteflirt)
Subscribe to My Devonite Newsletter ->
Click here to register
!
---
Your Goddess is VERY excited for these new mind altering training files to be an active part of your daily life.
They turned out amazing as always with my crystal clear & sultry voice… one that makes it so hard to even fathom refusing my orders.
Both of these mp3s were inspired by a phone session a few days ago. What a lucky slave this pet is to be know our intimate call turned into these deadly training gifts! Perhaps one day you will be a part of this creative process.
Indulge and always, always… give in to your NEED for your Goddess Mz Devon.
Serving ME is an experience you will never find elsewhere. Respect that. Honor that.
Listen to 'COCK FIEND' :  13:31 Mins
I'm going to be very transparent with you right now. The sole purpose of this file is to retrain your brain and have you become just like it's name… a cock fiend. When this perverted transition is successful I will be unapologetically proud of what I have done.
Listen to 'CUM FIEND' :  8:21 Mins
I've made this cum fiend training program for one reason alone – to reprogram your mind to lust for cum… Not a little bit of cum… Not just a few rounds of cum spilling on the wknds… no… that's far too simple.. I want you totally driven to push out as much cum as you can daily…religiously. Milk yourself for your Goddess Mz Devon.
Bookmark these links immediately :
FollowMzDevon.com
|
PayGMD.com
|
FemdomHumiliatrix.com (Niteflirt)
Subscribe to My Devonite Newsletter ->
Click here to register
!
---
It's been awhile since I've done one of these public entries. It's that time of year where my summer adventures have slowed down and lucky for you I will be available more for my slaves and their Devonite training. This year was probably one of the best summers to date and frankly, I'm a pinch exhausted from all the craziness of it! I'm very much looking forward to diving into your kinky and eager minds and replanting the seed that brought you to me in the first place. Your Goddess is here my pets, and I'm excited for our adventures these next few months.
Always one to restructure, I've decided on using FollowMzDevon.com for all things day to day. Twitter will be used for promo only. The concept of sitting all day on a free for all site does nothing for me. This acct will be used as a method of communication if you are not on my IM list or have my personal texting #. It's the ONLY social media site I will reply to your messages via. Ever. I will be posting images there, assignments & important announcements specific to my stable. No part of posting selfies on free platforms for the entitled masses arouses me in the slightest, so using this avenue to further taunt you more intimately will be fun. Don't expect things to last long there. There will be no huge backlog of photos and notices. I will cherry pick what stays and for how long so you best get a move on if you want to fill your obsession basket. Following actively & attentively always. The Devonite Temple will always be your first to go spot to worship and submit, while F+ will be more of a candid, relaxed and engaging look into my daily femdom life training subservient and perverted males worldwide. If you're lucky you might even make an appearance there! Those joining my Devonite temple will be able to join my follow acct with a special rate meant only for my stable OR if you join FollowMzDevon.com first you will be able to join The Devonite Temple at a special Devonited rate also.
More often than not I'm very inspired after a nice long delicious domination session. So much so I tend to start creating new ear candy to further my addicts and their obsession with serving their GODDESS MZ DEVON! I have a very large worship collection that will be dosed out to you all slowly, effectively, with the sole purpose to cripple your orgasms unless guided by your submission to ME! There have been 3 new worship audio files released this summer – Silly Stroking Slave, Forever Cuckolded and Perverted Playthings. I expect all of you lurkers to listen to them all and remember what the point of you being here is… to serve. I know you are bombarded with deals and coupons daily of this new wave of insta-femdom recycling but know all that nonsense will never fulfill your need to be truly used. Remember the first time you honestly felt the rush of submission. Buying clips and traipsing around Twitter aimlessly getting hard for any new 'character' will never give you that feeling. Embrace your ache for something real. On your knees for Goddess now my pet, let the rush you're feeling fuel a deadly new adventure, one that won't soon leave your thoughts.
Looking forward to doing nothing but rebuilding you from the ground up and laying claim on you as another of my Devonited. Become a sliver of something electric you honestly can't even put into words. Become MINE.
Always.
Forever.
x
your Goddess Mz Devon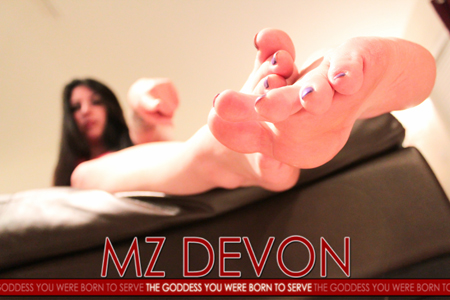 Bookmark these links immediately :
FollowMzDevon.com
|
PayGMD.com
|
FemdomHumiliatrix.com (Niteflirt)
Subscribe to My Devonite Newsletter ->
Click here to register
!
---